MONEY MONEY MONEY DRANKIN DRANKIN DRANKIN

SI reports that Clemson and Alabama will receive nearly $2 million each for the season opener in the Georgia Dome. More importantly, beer will be sold until halftime. BEER WILL BE SOLD AT A CLEMSON GAME. EGADS.

So what will happen when the unsuspecting fan discovers he can instantly kick the action up a notch at the Dome? I like to think it'll go a little something (pause) like this:

[scene: concession stand, Georgia Dome, Aug 30, 2008]

Alabama fan: "Good sir, let me get 8 Chick-fil-A sammiches, a trash bag full of waffle fries doused in polynesian sauce, uh, and a bushel of nuggets. And take my fanny pack and fill it with honey-mustard. I also require a tankard of your finest lemonade."

Concession boy: "Ah, yes, the medium sized Friedgen Meal. Sir, we also are selling beer until halftime today."

Bamafan: (incredulous) "Wait, what the fuck did you just say to me?"

Concession boy: (takes a step back) "Uh... I said we also have beer."

Bamfan: (squinting) "Toying with my alcoholism is like toying with my emotions, Poppa Smurf. This is a college football game, we do our binge drinking before, not during."

Concession boy: "But sir, it's only 8 dollars per 16 oz cup."

Bmfin: (salivating) "Are the cups.... *gulp* are the cups flimsy?"

Concession boy: "So flimsy you can barely hold onto them."

Brmfrrn: (lip trembles) "Please tell me the beer is.. oh God.. lukewarm and watered down."

Concessions: "Indeed. Sir it's really only beer in name alone."

Brmfnnnn: SMASH GRAB DRINK PUNCH VOMIT PUNCH DRINK DRINK YELL DRINK GROPE DRINK *ding* Halftime *ding* APOLOGIZE

Much like SNL writers I don't know how to end a bit. END.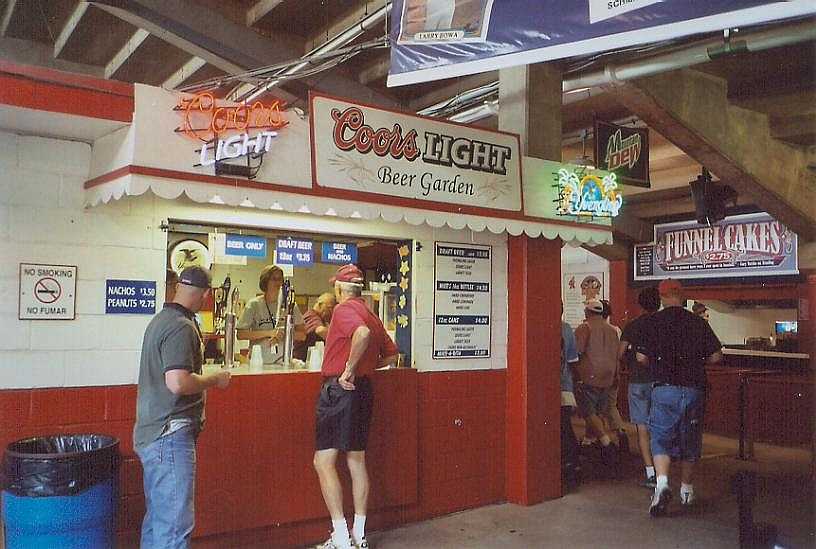 Just pour the beer into this carrying bag on a pole. No, it's not an IV drip. Do IV poles come painted crimson? Didn't think so, bub.
ACC SPORTSWRITERS HEART CLEMSON
Clemson was picked by 51 of 65 ACC media types to win the ACC Championship. 59 out of 65 picked the Tigers to win their division. 5 media members tabbed Wake to win the division. This was the first time since 1991 that the Tigers were chosen to win the league. Clemson, of course, clenched their last league crown in 1991. SPOOOOKY. The State talks about it
here
.
Pasty manchild and
Varsity hot-dog distributor
Stewart Mandel is one of the writers who picked Clemson, albiet with some
strong reservations
.
STACKED OFFENSE
Cullen Harper, James Davis, and CJ Spiller led preseason player of the year voting and join Aaron Kelly and Michael Hamlin on the preseason all-ACC team.
The article in The State
goes on to note that Coach Bowden may be prepared to move man-beast Rendrick Taylor back to WR after getting some work in the backfield.
INJURY REPORTS
The ACC will become the first CFB conference to release regular injury reports.
Twice weekly, baby
.